Director
Univ.-Prof. Dr. Reinhard Alkofer
Director
Reinhard Alkofer, born 1960, is since 2005 professor for subatomic physics at the University of Graz. He received his PhD in theoretical particle physics from the Technical University Munich. For his PhD thesis he has been awarded the prestigeous Dies Academicus prize. After his PhD he continued his research at the State University of New York at Stony Brook, at the Service de Physique Theorique de Centre d'Etudes Nucleaires Saclay, at the Technical University Munich and at the University of Tübingen.
He has an outstanding experience in research training programs for PhD students: From 1992 to 1999 he was associated member of the DFG research training program "Hadrons and Nuclei", from 2001 to 2005 he was Principal Investigator in the European research training program "Hadrons in vacuum, nuclei and stars". After his change to the University of Graz he was speaker of the newly established FWF Doctoral Programme "Hadrons in vacuum, nuclei and stars" from 2006 to 2008, and from 2009 to 2019 he was Principal Investigator in this FWF Doctoral Programme. Since 2020 he is speaker of the Doctoral Academy Consortium "Theoretical Particle Physics".
His special commitment for the training and education of PhD and master students has been acknowledged in 2012 by granting him the teaching award of the University of Graz for his achievements in research-oriented teaching.
In his research, documented in more than 200 and quite often well-cited publications, he is taking up contemporary problems in particle physics, gravitation and mathematical physics. Hereby, the members of his group are working in international collaborations. Quite often, graduate students took the respective opportunity of a long-term research visit which allowed them to work together with leading scientists in their research area at universities and labs, e.g., in the USA, Brazil, Spain, France or Germany.
Reinhard Alkofer served several times as director of the Schladming Winter School in Theoretical Physics which has been for many decades a renowned school for PhD students in elementary particle physics and related areas. He is member of the Theory Advisory Group of the PANDA experiment within the planned FAIR project in Darmstadt, Germany. Last but not least, he is member of the Editorial Board of the European Physical Journal.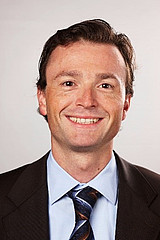 Johannes Zollner has been Professor at the Institute for Corporate Law and International Commercial Law at the University of Graz, Austria (Karl-Franzens-University Graz) since April 2013. Between 2016 and 2019 he has been Dean and Vice-Dean of the Faculty of Law. Between 2011 and March 2013 he has been working as a University Professor for Private Law at the University of Carinthia (Austria) and before that as an Assistant Professor Vienna of Economics and Business. From 2007 to 2009 he was an APART fellow of the Austrian Academy of Sciences. His practice focuses on company law, commercial law, capital market law, takeover law and the law of digital transformation. Johannes Zollner has published more than 150 academic publications. With the consortium "Synergies in Business Law" he has been a member of the Doctoral Academy since 2017.